hello there dear members/watchers~ :D
first of all I want to thank you all.
stacked_rubbish has +300 members! i'd have never thought the comm will made it that far, but it's been more than a year already!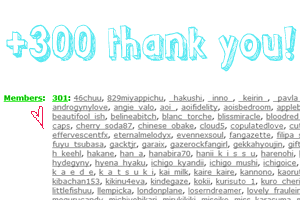 now the announcement... well, actually, the announcements.
from now on we have two new icon makers here:
aya88 and
helldrawing; they'll post some sort of introduction sooner or later. ;D also, the community is now set on private- that means that after 48 hours every post will be locked and only members will be able to see them.
and~ last but not least, i needed some sort of change so let me introduce you my new personal graphics com. :D i'll be posting basically the same i post here (aka icons mostly from dbsk, gazette and super junior) but different batches 'course~ now join...


joomun
joomun
joomun
joomun
joomun
joomun
joomun
joomun
joomun




...please? ♥